Before we talk about alternatives to Get Response and the email marketing functionality, we should talk about the importance of email marketing in the entire marketing automation process. Marketing automation integrated with CRM, in the realm of digital marketing is all about the following functions:
Social Media Management and Marketing Automation: With this features you can create and queue up posts even as the dashboard reports the analytics and insights that can help you plan your posts for more reach and engagement.
Email Marketing: With this function within the marketing automaton aspect of the CRM system, you get to maintain your contacts, reach out to them, convey notifications, and many other things.
Landing Pages: With landing pages and webinar signups amongst other tools and technology at play, you can be sure that you will not only bring people to your website, but you can also get them to sign up for the exact product or service that might fit them. This is one of the best ways to build in a call for action so that you can lead your prospect down the sales pipeline and get the conversion you need!
Apart from the aforementioned, there are a number of marketing automation functions that typically should be integrated with the CRM. Email marketing is one of the most important parts of the marketing automation process since it helps your each your prospects on a one on one basis so that you know exactly where they stand in the pitch to conversion process.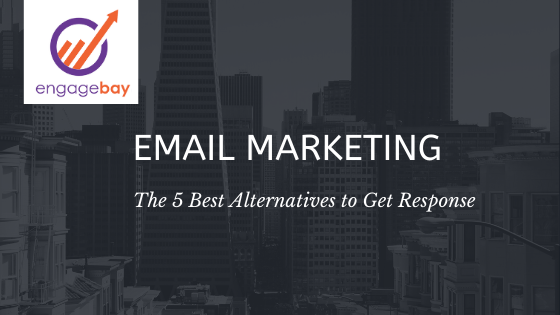 With brands like GetResponse and MailChimp, you have a number of options that are available so that you can automate this very important aspect of digital marketing for that pull marketing strategy. Yet, there has been a need for a GetResponse alternative.This is due to the varied limitations of a platform like GetResponse, which are listed below:
Pricing: For small and medium sized businesses that are still growing, a platform like GetResponse may not be the best option which is why we need GetResponse alternatives that can help you get the job done at a more affordable price point.
Setup: Many platforms like Get Response have a complex setup process which is something that you need to carry out for each campaign that you plan and each email that you have to send out. This has prompted the need for better alternatives to GetResponse.
Duplicated Efforts: Many times, with a platform like Get Response, you need to constantly update and remove the duplicated contacts even as you add the same contacts for the same function across different email campaigns. This ends up being extremely time taking and hence there is a need for alternatives to GetResponse.
So here is a quick reviews of the 5 GetResponse alternatives that you can use:
EngageBay: When it comes to complete marketing automation along with great pricing with the CRM niche, you can be sure that Engage Bay would be the best GetResponse alternative you can find the marketing realm today. With affordable pricing and constant support, you will find a great user interface that lets you plan and execute a number of email marketing campaign at the same time with contact management and lead management happening at the same place.
ConstantContact: With ConstantContact, you get an average alternative to GetResponse thanks to its pricing and a little less time for the actual setup process. Yet, it leaves much to the imagination in terms of support and the functions are half baked at best.
SendinBlue: This platform is a good alternative to Get Response so that you can get all your digital marketing tools in one place for a wholesome campaign. This would be a good way to create digital marketing campaigns, yet this platform does not support a wholesome way of managing contacts and leads.
ActiveCampaign: This platform helps you in organizing all your contacts an information so that you can organize them into email marketing campaigns.
Benchmark: With Benchmark, you can get a number of great templates and designs that can help you create campaigns that can grab the attention of your target audience.
After the review of all the alternatives to Get Response above, you can be sure that EngageBay is the best alternative for its marketing automation suite that is well priced and integrated with CRM as well.