Since the iPhone 7 Plus launched, people have been becoming crazy for it. And why they don't, after all, it is featured with so many unique and advanced functionalities that can turn anyone's head towards it.
Yes, agree that it was one of the expensive masterpieces when it was launched. Price can be neglected to compare the features.
An expensive and valuable gadget always needs a protection and needless to say, a mobile case is enough to keep it protected. Let me ask you one thing, should we buy mobile case only to protect mobile? Your answer would be a big "NO". A mobile case is used for multi-purpose. Does your iPhone 7 Plus has an ordinary case that only can protect your iPhone (only the backside)? Yes, then you should replace your old-fashioned mobile case with the featured Wallet case.
Here we have listed top 7 best seller iPhone 7 Plus wallet case for men and women. All are good options to please beloved ones by giving as a gift.
ALSO READ: Best iPhone 6 Plus Wallet Cases
ProCase – Girls' Favorite Wallet Case
Let everything store at just one place with the Procase iPhone 7 Plus wallet case. This handy case is specially designed to carry multiple things within a case: mobile phone, credit/debit cards and some cash. To hold the cards; two built-in slots are available and one side pocket for some cash. Girls love this feature of a case: a built-in mirror is also there. Built-in kickstand with several positions to hold mobiles and magnetic closure are added features.
Premium leather interior and exterior offer good protection against regular use.
In short, it's a one for all your needs to keep your pocket lighter and provide comfort. Multiple colors are available: Black, Grey, Pink, Purple, Red, Glitter Pink, Glitter Silver, Glitter blue, MintGreen, Z-Aztec1 and Z-circles.
FYY Flip Folio Leather Wallet case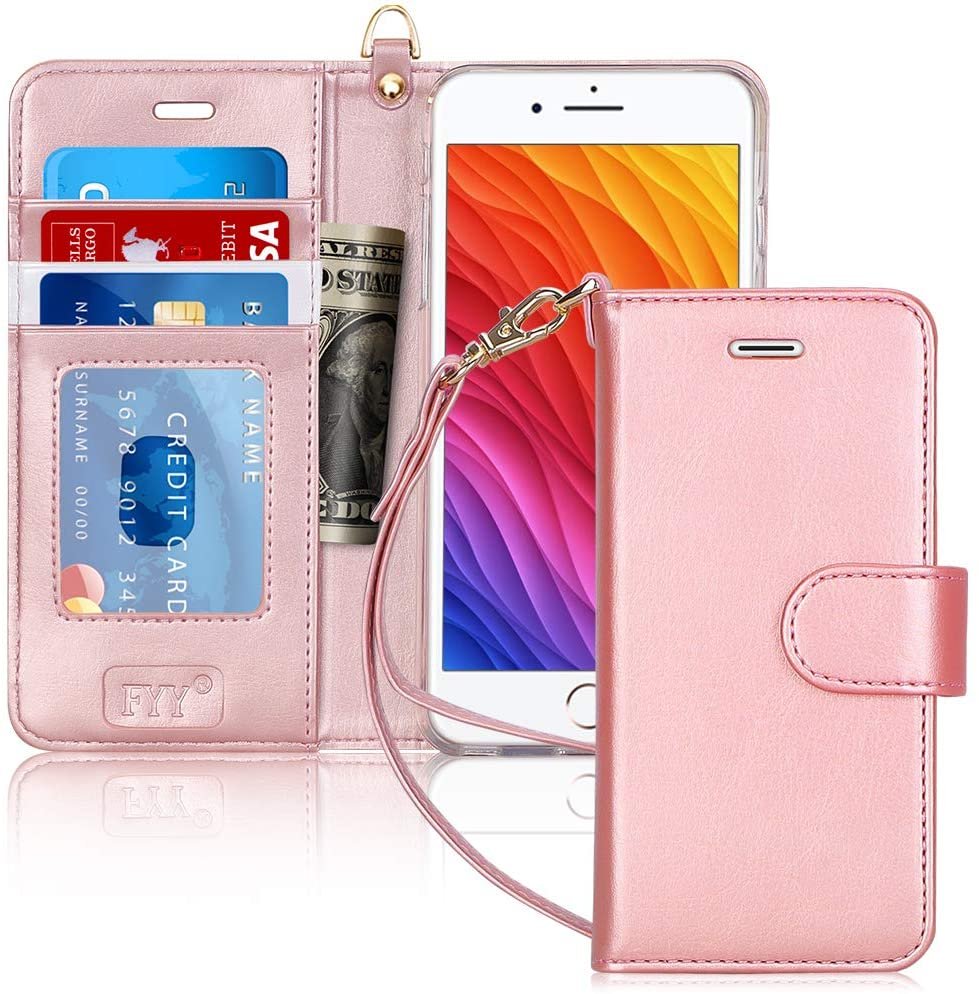 For the leather lovers, there is nothing that offers pleasure than this wallet case. If you are owning a brand new iPhone 7 Plus masterpiece then you can't neglect this case, comes at a nominal price. This case is specially designed to not only your phone but provide special protection to your credit and debit cards stored in the wallet case.
HOW? With the RFID technology, someone can scan your cards within the 3m range but keep the card in FYY case; you no longer worry for the same. Its' 100% made from handmade and PU Leather. With the kickstand functionality; you can change the viewing angels the way you want. It has enough slots for cash and cards.
Note: This product is listed in the "Amazon's choice" means a completely trustworthy and reviewed by more than 2,106 customers. I would like to nominate this for the girls and color: A-Rose Gold.
Colors: A-Rose Gold, A-Magenta, A-Mint Gree, A-Navy, AC-Pink, AC-Purple are just a few.
ARAE Flop Cover PU Leather Wallet Case
Listed in the Best Seller This is another one made from PU Leather and offers a comfort and style for your masterpiece gadget. It's a slim folio wallet case to protect your smartphone and alleviate bulk means keep your pocket lighter. With the excellent cutouts; you can easily access the camera, buttons, screens, etc.
The interior made from soft TPU to hold the device accurately and keep your smartphone anti-scratch. It has 4 slots for debit and/or credit cards and one side pocket for cash. With the kickstand functionality, you can set the multiple viewing angles.
Colors: Black, Brown, Green, Purple, Champagne Gold, Marble Gray, Marble Green, Rose Pink, Marble Pink and many more.Price: $9.99
ZVE Zipper Wallet Case
Wrist Strap, money pocket, credit and debit card holder, leather material, zipper and protection are the main features of ZVE wallet case for iPhone 7 Plus smartphone. Only compatible with the iPhone 7 plus 5.5 inches not for the 4.7 inches. It offers enough space to store 10+ cards, some cash and IDs as well. In short, a single solution for all your pocket needs. High-quality YKK zipper provides extra protection to your cards and cash; once it's closed; no worry about them.
This case comes with 18 months manufacturer warranty that makes it worthy for a customer. With anti-drop lanyard design, you can hold the phone conveniently and safely.
Color: Black, Pink, Green, Diamond, Polka Dots and Starry Sky
SHIELDON Genuine Leather Wallet Case
A book design iPhone 7 Plus wallet case is made from genuine leather that provides extra strength and quality. Need a stylish, soft and feel natural type wallet case; this can please you with all.
This case holds 3 slots for cards, one side pocket for cash and a magnetic closure lock to protect your cards and money. The front cover can work as a kickstand and provider multiple viewing angels. Precise cutouts offer a convenience to access all ports easily without removing a case.
It comes with a 1-year warranty to a lifetime replacement warranty. Strange but true.
Color: Black, Blue, Brown, Purple, Red, Coffee Brown
So, which one is your best one to purchase for your ultimate iPhone 7 Plus Smartphone? Please share it within the comment section or share on our Facebook, Twitter and Google+.