People are moving towards digital and prefer to pay through online payment gateways but still, wallet cases are in demands and utmost favored choice for the iPhone owners.
Such cases protect your iPhone and also hold your necessary documents like driving license, identity cards, credit/debit cards and a few cash. There is no doubt that Apple Pay is getting popular among the iPhone users still, iPhone X Wallet cases are popular.
Lots of options are available in the market to choose from. So, we have decided to display few widely popular and highly rated wallet cases on Amazon.com.
Needless to say, Amazon is one of the best online shopping platforms to buy from. So, without wasting the time on other discussions; let me bring you to the main point. The selected iPhone X Wallet Cases are durable, thinner, design preference and for every budget.
ALSO READ: Best iPhone 7 Plus Wallet Cases
Wallet Slayer Vol. 1 by Silk
Serving as the best wallet case yet, Silk Wallet Slayer Vol. 1 is a prior choice for the iPhone lovers. This is the best for those who carry cash and cards together and mostly forget to carry their wallet at home or office.
As we all know that wireless charging is an advanced feature of iPhone X. Mostly, an iPhone X user would have to remove the cover first and then put it on a charging mode. But your phone can be charged through the Silk case (Nikola Tesla approved).
The back of the cover is having high-grip textured sides so you can get a better grip and very changes to get fallen from your hand. Along with these features; you will get a free screen protector film as a complimentary. Due to its solid design, slots for 3 cards and cash, protective air pocket corners are core reasons to get listed in the top 5.
Folio Style iPhone X Case by Maxboost
Elegant style, multi-purpose usage and protective features make the Folio Style iPhone X Wallet case in the list of top 5. It is compatible with the iPhone X and XS. Made from PU Leather, iPhone X case features manifold color options and front & back protection. Featured with 3 card slots and a side pocket for cash, Folio Style Wallet Case is convenient to use and offers a magnetic lock design as well.
You can get easy access to all camera, all ports, speakers without removing the case. Of course, you can use it as stand so; you can enjoy your favorite shows without getting hassled. LIFETIME WARRANTY is also there to provide maximum protection throughout the life your case.
Flip Kickstand Case by Procase
This multipurpose wallet case is specially designed for iPhone X and XS (5.8 inches), not for any other devices. This case is featured with higher protection against daily use, made from premium composition leather materials, and precise cutouts.
With this, you will not feel any type of hassle while accessing all the features (Speakers, Buttons, Cameras and Ports). Built-in Kickstand with manifold angles is also available for the perfect entertainment.
Two card slots & a single pocket for your money; plus mirror function; these are core features why women love this one. And this case is also available in around 10 colors to choose from. Why is this in the list of top 5? The reasons are beautiful color combinations, extra protection, hand wristlet strap and kickstand.
Compatible iPhone X Leather Card Cover by DGGEUER OTUWETPEI
Elegant in appearance, colorful design, attractive shape and useful in practice are few good features of compatible iPhone X Leather Card. Made from high-standard leather materials, this covers the whole back of iPhone X & slim fit to every corner as well. The case is a specially engineered to keep the cards on the back of the cases without losing its luxury value.
Sleek Design, lightweight and precise cutouts can tempt any iPhone owners to buy at the first glance. It's kind of love at first sight. All your handset's controls remain unrestricted and protected as well. The giant advantage of getting this case: LIFETIME WARRANTY. Yes, brands provide the lifetime warranty* means once you buy; you don't worry about the case much.
Zipper Wallet Pocket Purse cum Case by ZVE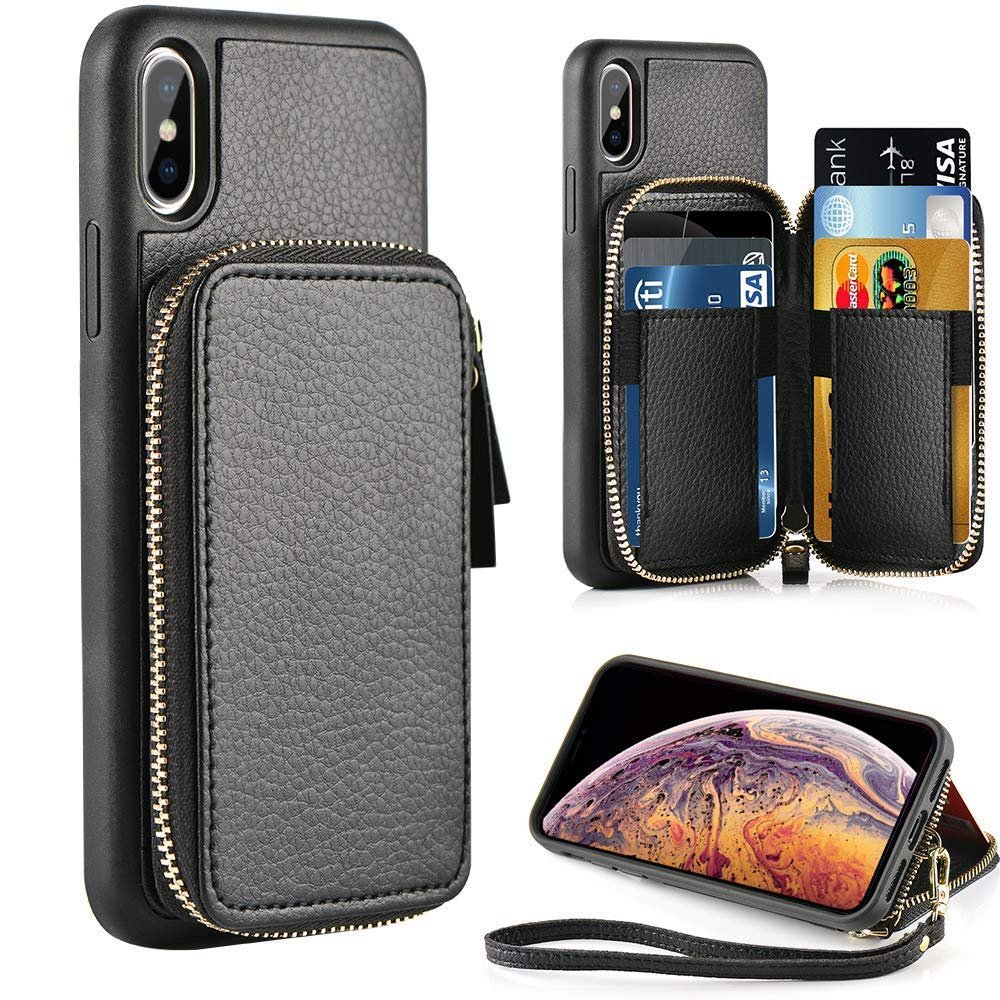 Remember, this case is only compatible with the iPhone X and XS (5.8") released in 2017 and 2018. If you have any other devices; do not stay with this. You would love to browse these cases. Wallet Cases for iPhone. If you carry around 10 cards daily in your pocket then you must opt for this iPhone case, no other can be helpful as this one. The Zipper Wallet Pocket Purse cum Case is having enough space to keep around 10 cards, pocket for money and keys as well.
Equipped with the standard YKK Zipper design, the case can protect your belongings in it very well. With anti-lost lanyard design; you can keep it in your hands in a better way without worry of falling the mobile from the hand while operating. Along with this, 18 months of warranty & great customer services are available for you.
So, these are the top 5 Multi-Purpose iPhone X Wallet Cases that are highly rated by the iPhone owners on Amazon.com. So, which one is suitable for your personality, needs and style? Let us know your favorite one in the comment section.